On Saturday May 13th 2017 I had the honour of being invited along to the Merewood Country House Hotel near Windermere to be Rachel and Gary Grant's Wedding DJ and Host.
Set in its own secluded, twenty-acre estate of beautiful landscaped gardens, woodland and meadow, and with stunning views overlooking Lake Windermere. As soon as you step through the front door of this beautiful country house, you'll discover an oasis of comfort, warmth and relaxation. As far as Lake District Hotels go…Merewood is a real hidden gem.
It was even more of an honour for me to be part of this Wedding Day as the Groom Gary Grant was crowned Mastermind Champion in 2012! Among the Bride and Grooms guests on the day were from ITVs The Chase Anne Hegerty aka Frosty Knickers and Jenny Ryan aka The Vixen.
There was an amazing team of A List Wedding Suppliers working alongside me on this Wedding.
There was Jane, Jason and the phenomenal Flower Design Events Team who dressed The Merewood Hotel with such wonderfully rustic flowers mixed with Herbs.
For the second week in a row I had the pleasure of working alongside the super talented Tiree Dawson Photography. You must all know by now how much I love working with Tiree…she not only lights up the room with her cameras but also with her enthusiasm and bubbly character.
Earlier on in the day Mr Magic Darren Robinson was entertaining The Bride & Groom and their guests with his mind blowing table magic….really how does he do it!!
Finally we had Katie Tweedale Hair on duty making sure the Bride and her Bridesmaids looked stunning.
Rachel and Gary chose The You and Me Song by The Wannadies as their first dance. This was followed by a good party mix of music with a good bit of Electronic 80's tunes thrown in for The Groom and his mates.
As always the wonderful staff at The Merewood Hotel were bang on form making sure everybody was looked after. A fantastic night was had by all including myself!
Have a long happy and healthy life together Mr & Mrs Grant.
GM. xx
Some pictures Courtesy of Tiree Dawson Photography.
Posted in Blog. on May 19, 2017
Easter is always a very busy and happy time of the year for Weddings.
This year I was fortunate enough to be invited along to The Lowwood Bay Hotel on Saturday Night for Samantha and Adams Wedding Day. The Lowwood is just going through an extensive redevelopment at the moment which is going to turn the Venue into a 5 star luxury venue.
Samantha and Adam had booked the super talented Jason Chambers to be their Wedding Photographer for the day, Jason really is one of the best guys in the business who never misses the opportunity to grab that perfect picture with the amazing Lake District as a back drop.
Samantha and Adam's Party really did go with a bang…..everyone was up Partying hard until the early hours of the morning even though the Groom and his Stags were up at 6.30am on the day of the Wedding for a Bike Ride around Lake Windermere!!
On Easter Sunday I was back to my favourite Wedding Venue…the awesome Laura Ashley Belsfield Hotel in Bowness. I had been invited along to be Louise and Gary's Wedding DJ for the night. This Wedding was a little different as Louise's Dad use to play in a bang called The Hoodoo. The guys had not played together for 9 years but got together especially for the Bride and Groom. I must hold my hand up and say that The Hoodoo nailed it…they were as good as any Wedding Band I have seen with their collection of Rock Covers.
We then partied through until Midnight finishing on Bring Me Sunshine by Morecambe and Wise which I thought was fitting as the Bride and her family were from Morecambe. I later found out that Gary has been a Professional Cricketer and is now the Cricket Development Programmes Officer for Sussex Cricket Club.
I wish both Samantha and Adam and Louise and Gary long Happy and Healthy lives together as Husband and Wife.
GM xx
Posted in Blog. on April 21, 2017
On March 31st I had the absolute pleasure of being the Wedding DJ for Helen and Matt Farrell out at Browsholme Hall & Tithe Barn.
Browsholme Hall, pronounced 'Brewzum', lies in the Forest of Bowland, Lancashire and has, since 1507, been the home of the Parker Family.
A unique historic house, not least for its romantic picturesque gardens and remarkable antiquarian collection of possessions, accumulated over fourteen generations of continuous occupation by the family.
Browsholme's Tithe Barn has been restored into a unique venue for weddings and receptions, where couples have the freedom to bring forward their inspirations to create a unique wedding and reception for their family and friends. The Tithe Barn is individual and exclusive, while the gardens make Browsholme a wonderful romantic setting for a special day whatever the season.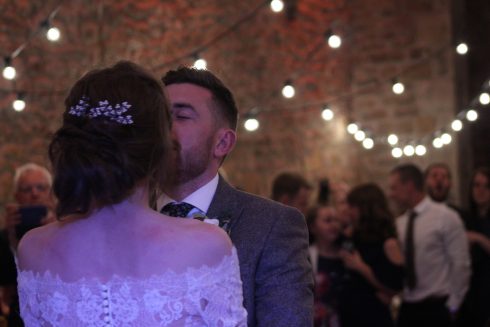 The day was made even better as the Wedding Photographer for the day was the wonderful Christian Allen. Christian is a great guy to have around at a Wedding, he makes guests feel at ease and always produces amazing pictures.
Also it was great to see Wedding Caterers With A Twist serving up wonderful looking and smelling food for Helen and Matt's hungry guests.
It was great to see all of the Wedding guests joining in with the dancing and craziness that happened on the Dancefloor.
Thank you again Helen and Matt for allowing me to be part of your special day.
GM xx
Posted in Blog. on April 13, 2017
← Older posts | <