People I've worked with
I have worked in various bars,clubs,hotels and large venues such as Blackpool Tower, Bartle Hall (Preston), Lytham Hall, The Leverhulme Hotel (Liverpool), Ribby Hall, Springfield House (Pilling), Barton Grange Hotel (Preston), The Merewood Hotel (Windermere), The Inn At Whitewell, The Grand Hotel (St Annes), Shrigley Hall (Stockport), The Palace Hotel (Buxton), Ayr Racecourse, Langdale Hotel And Country Club (Ambleside), Stanley House and Salmesbury Hall (both Blackburn), Herons Reach Devere Hotel (Blackpool), Park Hall (Charnock Richard), The Hilton Hotel (Manchester), The Marine Hall (Fleetwood), Central Pier (Blackpool), Mitton Hall, Singleton Lodge, The Imperial Hotel (Blackpool), Schofields Bar (Blackpool), The Edge (Poulton) and Club Joya (St Annes).
I have also had the pleasure to work alongside celebrities and performers such as The Kings Of Swing With The Kings Of Swing Orchestra, The Quireboys, The Ian Gillan Band, Howard Wing, Tony Benidict, Ian Hooper And The Band, Geoff Ray And The Soul Sensation, Calvin Henry, Steve Royle, Ken Morrell, Paul Guard, The Blue Pig Orchestra. Sorry if I missed any names, I look forward to working with more people in the future.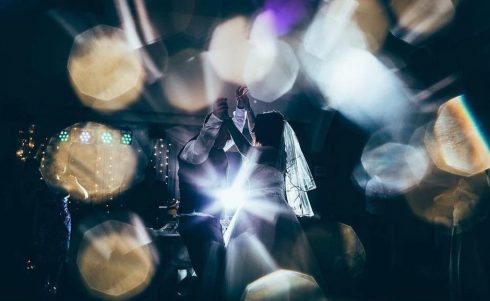 Testimonials.
Here are some nice things people have said about me and my work recently…
Gary is just absolutely amazing. From the very start, communication was great and it felt like I had already met him before our wedding. He is so nice and easy to talk to. On the night he was just amazing. The only time people weren't on the floor is when food came out (but even then they were straight back on it after eating)! Everyone was up and just enjoying their selves. He played something for everyone and knew exactly what to play next to ensure our night flowed. I was always hesitant about getting a DJ but I am so so glad I had Gary on the night as our wedding wouldn't have been the same without him. My legs and feet were aching for days after from all the dancing. He also provided us with a little vinyl full of all our night time songs – I mean what a perfect memento from the day. I would HIGHLY recommend Gary to anyone thinking of getting married and would love to do our wedding all over again to have our night do with him! x

Sarah and Jason Wetherall, Thursday April 21st 2022, Storrs Hall, Windermere. 

       
Gary!

What can we say!

We just wanted to personally thank you for everything! You was truly amazing and so focused on giving me and Ben a really brilliant night as well as all our guests!

The ONLY time there was only me & Ben on the dance floor was when a song came on that I thought I had deleted from the Playlist, one that Ben added that isn't the right version it never kicks in 🤣 but that was our fault! Everyone had so much fun and I've had so many texts saying it was the best they've ever been too! Now come on the DJ plays a HUGE part in that! It was so lovely to meet you! Thanks for being truly amazing honestly! ❤️❤️❤️❤️❤️❤️❤️❤️❤️❤️❤️❤️❤️
 Lou and Ben Wignall, Monday February 14th 2022, Stirk House, Lancashire.

Gary we have cast our vote for the North West Wedding Awards. You were absolutely amazing at our wedding. You helped us plan a custom 2nd dance compilation of songs based around our new married name, and were so accommodating when we had to reschedule our wedding, even agreeing to a date that happened to be your mums 80th birthday (sorry to your mum!!) You rounded off the night with a beautiful cd case with our names printed and a cd with some of the songs that mean the most to us. We've had it playing on repeat on our honeymoon so far. You delivered a fantastic, tailored, responsive and exceptionally professional service and we would recommend you to anyone. Thank you!! 
Emma and Richard Knight, Saturday August 28th 2021, The Netherwood Hotel, Grange-Over-Sands. 
Just wanted to express our heartfelt thanks once again for the exceptional evening we had last night, whilst you kept us entertained at Windermere Golf Club .
Everything was perfect and certainly lived up to our expectations . I know you pride yourselves on high standards. Hannah and Tom were delighted and so were Tracy and I .
From the moment the bride and groom arrived, together with their guests, the service was first class , so a very big thank you once again to you for keeping the music flowing and having the dancefloor rocking.
There were many positive comments, passed to me about your professionalism and the way you interacted with all our guests and made Hannah and Tom's wedding night, one, which will last very long in not only their memory, but many others .
Gary , just wanted you to know that you were a key integral part to making their day a huge success
You said you enjoyed it, we certainly did !!
Tudor & Tracy Griffiths ( Hannah's Mum & Dad )
Hi Gary!
Just a quick message to say thank you so much for Friday night! It was amazing! All our guests have said how brilliant it was and how much fun they had celebrating with us! Also thank you for the cd you made for us, we played this in the car on the way to our honeymoon so absolutely perfect! Thank you for making it so special and memorable
xx
Mr & Mrs Hayes!
Rachel and Mike Hayes, Friday August 6th 2021, Singleton Lodge, Lancashire.
Hi Gary,
We'd just like to say a massive thank you for making our day so very special!
We have had so many compliments from our guests about how fantastic you were, many were very pleased to hear their song requests played over the wedding breakfast! Without a double you will be our first port of call if ever we need a DJ service again and will most definitely be recommending you to anyone who asks!
Best wishes
Zoe & Jocelyn.
Mrs & Mrs Wright,  Tuesday August, 3rd 2021, New House Farm, Cockermouth.
Gary!
What can we say apart from a massive, massive thank you! You were absolutely brilliant and we had so many comments from guests on how good you were. You really made our night. We didn't want it to end. My mum absolutely adored you and loved boogieing to the trance mix you did, she keeps playing all the songs in her kitchen dancing. Our daughter, Charlotte also keeps asking to dance all the time and for Gary's lights to be switched on. She will remember it for years to come.
I am so glad we booked you and thanks for sticking with us rebooking our wedding date. Everybody needs a Gary for their night do.
I am now trying to think what family event I can put on next and ask you to be our entertainment.
Thanks again Gary and lots of love
Rebecca and Greg x
REBECCA AND GREG BONNER, WEDNESDAY JULY 28th 2021, STIRK HOUSE, CLITHEROE.
Dear Gary…
WOW!!!!
Thank you so so much for the most incredible evening we have ever had. Honestly, we cannot THANK YOU enough for absolutely everything you have done for us over the many years we have had you booked for.
You are the best DJ and entertainer around! Every single guest commented on how fantastic you are (many saying "He is the best wedding DJ we have ever seen!") The playlist was constantly brilliant and the set-up with the lights and the inflatable instruments was just perfect. Dan's sister won't stop talking about the saxophone.
Guests who never dance, danced that night – people who we have never seen on a dance floor couldn't get off!! The tunes just kept coming!!! There was a point where my wedding shoes started to hurt and I thought about sitting down for a bit but every time it came to the end of a song and I thought, right, now I will go and change my shoes, a slow one I don't know will come on… it never did and I had to stay because it was just so amazing. Every single second was simply perfect. My very pregnant friends even danced all night!!! And one of my favourite memories was when my family and I danced as a four to Bruce Springsteen and the dance floor cleared hahahah! My dad lost his voice from shouting along and cheering so much!!
The fact we haven't been able to dance for so so long made our night just that even more incredible – it was more than we could have ever dreamed of. Thank you.
Thank you Gary (for our CD too – a lovely touch!)
You have been brilliant and we can't wait to see you again. Thanks for being so flexible with our covid-style wedding and we will never forget your kindness. Covid didn't exist on Saturday evening (just wonderful happiness) and that is unforgettable! I don't know if you got any photographs, but if you did, we would love to laugh at them.
Kindest regards,
Love Amy and Dan LOWTHER!!!!(: Finally!! )Xx
AMY AND DANIEL LOWTHER, SATURDAY JULY 24th 2021, THE MEREWOOD COUNTRY HOUSE HOTEL, LAKE DISTRICT.
Gary is full of character, I felt as though I had met him many times before because of how easy-going and personable he is. His set up really transformed the room and he took the day to the next level. He sent a form to us prior to the wedding asking questions about our preferences and he was so open-minded. Nothing was too much trouble for him and he was flexible throughout the night. He was almost another guest and he was much more than a DJ to us. He integrated the guests with the music he played, he even double acted with a guest to set up one song. He really understood the vibe we wanted for the music. In short, he gave us the maximum potential and required the minimum from us so we could enjoy the night. A couple of added extras, my mum fancied him and he even tried to think up ideas to help us retrieve a drone that had flown into a tree outside! The best review is that we have asked to book him again for our follow up wedding party for the original guest numbers and list.
SIMON AND BEKKI WILLIAMS. FRIDAY JULY 9th 2021 THE DAFFODIL HOTEL & SPA, GRASMERE.
Hi Gary
It's Graeme, Kimberley's dad, The Father of The Bride!
Wanted to message you with our sincere thanks for making her wedding evening so special
Your professionalism and mix of music was amazing
We have recommended you twice since the weekend so hopefully a bit more business
Thanks again.
Kimberley and Dan Helm, February 28th 2020. The Barton Grange Hotel, Lancashire.
Thank you so much for being our DJ on Saturday for our wedding we absolutely loved it. Especially thank you so much for playing our random requests and keeping the dance floor full all night. Amazing, highly recommended. Kylie & Dwain xx
Mr & Mrs Pritchard. February 15th, Singleton Lodge Country House Hotel, Lancashire.
We got married on 23rd November 2019 and Gary was without doubt one of the best choices we made! Gary did a fantastic job of keeping the dancefloor full all night long, literally until the very end, with guests of all ages up dancing. The music was exactly what we wanted and better; so many people have said how good they thought the music was – what more could you want! Gary wasn't just great on the day either, he was friendly and professional from the very start and made the whole run up super easy. The CD he left us at the end of the evening was also a really lovely extra to remember the day by. Thank you again for helping make our day so perfect Gary! Love Mr & Mrs Hall
Mr & Mrs Hall. November 23rd 2019. The Mill at Conder Green.
We cannot say thank you enough for being our Wedding DJ at The Belsfield Hotel last weekend. It was the most amazing day and evening, you kept the party going all night!! The videos you took are brilliant!! Thank you so much for sharing them with me…I just want to do it all over again!
Mr & Mrs Reid. May 23rd 2015. The Belsfield Hotel, Lake District.
We are so grateful to you for the amazing job you did both before and also on the evening of our Wedding.
From our initial chat, you put us at ease. As well as providing great entertainment you were also easy going and happy to work with us to make our day memorable.
You took the co-ordinating of sound equipment with our Drag Queen entertainer off our shoulders which was one less headache for us and was much appreciated!
The evening ran seamlessly. We came away from reception drinks to find everything setup and ready to go. The dancefloor remained full of people dancing (badly!) throughout the evening and you provided great entertainment with the costumes,inflatable guitars etc which were hilarious.
It was really great to have has a DJ who enjoys their job so much and seemed to feel as excited about our big day as we were!
We cannot praise you enough…Thanks once again and keep in touch!
Phil and Ian.
Phil & Ian, April 2015. The Cragwood Hotel, The Lake District.
Dear Gary
I just wanted to thank you once again for your excellent performance as DJ at my daughter and son in laws (Sam and Phil) recent wedding at the De Vere hotel. The whole day went fabulously well and the evening was made really special by your performance on the decks.I hope you enjoyed it as much as our guests. You have entertained us so many times now at different events we feel you are one of the family and we look forward to the next time.
Steve and Bridget King Thornton-Cleveleys
Thankyou so much for everything you did for us,you were so professional,on cue and lovely. Our first dance wouldn't have been the same without your fab intro!!!
Kate and Martin Smith. Married 6th June 09 at Twelve in Thornton-Cleveleys.
Hi Gary, I have just recovered… We had such an amazing night. I cannot thank you enough,by far the best DJ we have ever had at the house and everyone said how brilliant the music was ALL night. Please keep in touch and fingers crossed you will be at my wedding next year!
Love The Hogarth Family, Alderley Edge.
Hi Gary, Just a note to say a huge thanks for last Saturday. You were amazing as always…the best "DJ in the North" Thanks so much.
Angela and Jason Meadows Cafe Zumo.
Hi Gary, Just wanted to say again what a fab night I had at my party on Saturday. I've had lots of texts and phone calls from friends saying how great they thought you were as a DJ. Thanks again for making it so special. The music, lights and atmosphere were brilliant and I won't hesitate to contact you again for future parties we have.
Helen McAlpine Strand Hotel
One Response to Testimonials